From pitches and press releases to developing strategic communications campaigns – my internship journey with Active DMC

This is officially the last week of my internship with Active DMC. It was also my first public relations job in the region, and it could not have been with a better team. As sad as I am about it ending, I am also grateful that I had the opportunity to work with such an incredible group of individuals. Everyone really made me feel like this was more than just an internship, and I loved every day of it.
Now that my internship is coming to an end and I was offered to write a blog, I was able to sit down and reflect on all the things I learned working as a consultant to some pretty remarkable clients. From pitches and press releases to developing strategic communications campaigns and brainstorming unique ideas for clients and so much more, B2B PR is not something I ever expected to explore – let alone love as much as I do – but that's what happened.
I studied International Business with specializations in PR & Communications in Munich, Germany. My degree was very hands on and practical and my courses required me to work with real clients. Yet, at Active I was pushed even further outside my comfort zone and it drastically improved my skills in writing press releases, pitches, understanding the media landscape and much more. An important lesson I learned from one of my team leaders was that media relations is much more about selling the story to the journalist rather than selling the client's product or service. This is one of my favorite lessons!
I also learned that being an organization's choice for a PR agency means that we are their partners and their consultants. We take care of everything on a larger scale, the full 360 degrees of communication. That includes digital and traditional marketing, content creation, campaign creation, and media training for our clients to prepare them for the loads of media requests that we will undoubtedly secure. There is so much more to this list, and to PR than being creative and organized.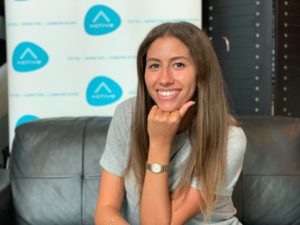 This role helped me grow as much personally as I have professionally, especially working with others who have such significant lives outside of the office. I never expected that a PR professional in the Middle East could have such a substantial work-life ratio. However, seeing my colleagues work so hard during the hours they are in the office and are able to enjoy their lives outside of it was eye-opening. They even inspired me to get into fitness in my free time! Needless to say, this team taught me so much in a short period of time, and not just professionally.
I want to take this opportunity to thank every single person on the team. So, thank you all for taking me under your wing, training me, helping me grow professionally and personally. You've made me feel right at home with Active DMC.
By Dina Mattar, Intern, Active DMC