A Recipe for Life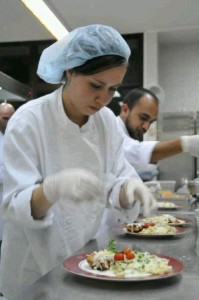 Recipes are not only for food. Life is a recipe itself but no one can really describe it generally… But I can definitely tell what an Active PR recipe is.
I head every morning to my kitchen located in Loft 3 – Entrance B, office 406, Dubai Media City. It opens from 9 am onwards – Today's recipe is exclusive and ingredients are prepared as follow: Leslie, Fatima, Mathilde, Rawan, Ketaki, Harriet, Rawya, Hala, Rana, Sara, Chloe, Sawsan and Louay. Each ingredient belongs to a different territory, so I know some may say "Wow what a mixture! Too much fusion"! But – "Hello whoever you are, try my recipe and then judge!"
Mix all ingredients except the last two "Louay & Sawsan" – Keep on mixing until you see them hugging each other. When ready add the dressing – "Louay & Sawsan" to the bowl and judge the taste!
Each individual in the existence has criteria. Some taste bad while others are superb! When it comes to PR's kitchen, recipes are not standardized… People make it remarkable with their personas as well as their union towards the common goal – a five Star Barcelona recipe into PR industry.
Now have a spoon, yummy no?! Leave your comment :).